It took me about four hours of research to figure this out, but only about 90 minutes to do the work.
PASSENGER SIDE
Simple: It can be done entirely from within the engine compartment.
NOTE: The manual gives a lot of warnings about potentially lethal voltages associated with this HID headlight arrangement, which I'm going into here. YOU should find those instructions and follow them... even though I ignored them completely and was just careful not to touch or short-out any connectors or wires.
From inside the engine compartment, use a "Secure Torx T20 bit" (or a pair of pliers if the bolt is loose enough, as mine was) and remove the bolt A, and twist the cover B counterclockwise (when looking at it from inside the engine compartment) about 1/4 turn to remove it.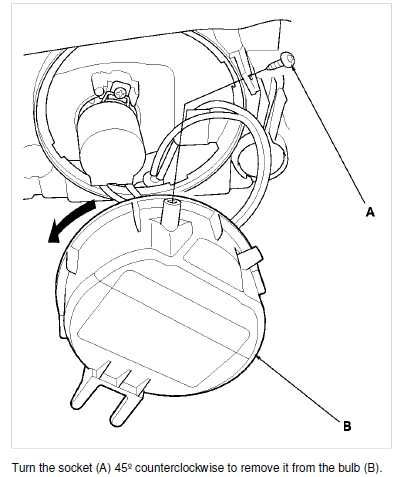 Twist connector A about 1/4 turn counterclockwise to remove it. Don't touch the metal inside or let it short to anything. Unfasten the retaining spring B, and pull the bulb straight out. Don't touch the glass on the new bulb as you insert it, and button-up the assembly in reverse order of disassembly.
DRIVER SIDE
Since there's not enough clearance behind the bulb to remove it from the engine compartment with the headlamp assembly bolted to the car, the assembly must be unbolted and slid forward to get the bulb out the back. To do this requires that the plastic bumper covering be removed in order to access hidden bolts.
It's pretty simple and doesn't require special tools, just a flat-blade screw driver to pop-open the plastic clips (you'll probaby break some, and they cost about $7 each at Acura), a 10mm socket and 10mm wrench. My car has a small air dam on the front lip of the bumper which I removed (I think needlessly).
Just remove the six clips toward the rear of the cover (D in the drawing)
Remove the bolts at B. The nut is accessible through the inside of the wheel well.
Remove the two Phillips-head screws at B (from inside the wheel wells)
Remove the three clips at C.
Pull the plastic piece off. It just slips into the "side clips" and the "hooks" so no big deal.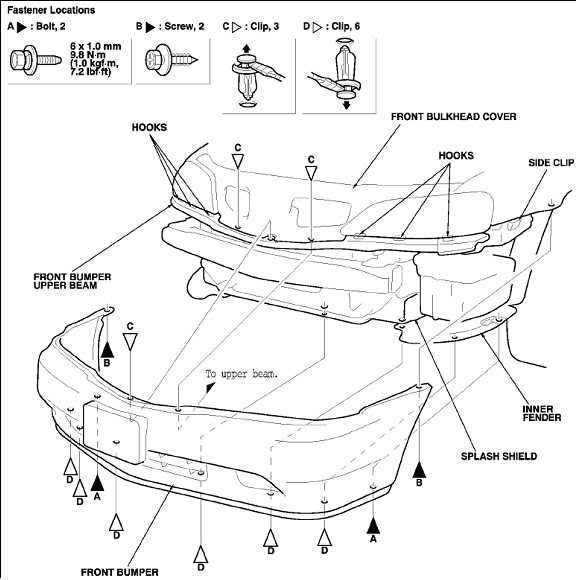 Once the bumper cover is off, remove six bolts A, and one bolt B, and remove the piece they secure.
Now remove the bolts that secure the headlight assembly to the chassis and move the assembly forward enough to remove the bulb from the rear. Be sure to disconnect the electrical connector first.