Discussion Starter
·
#1
·
I was heading to Fargo to get stuck in traffic. (Yes, there is traffic in Fargo.) I was driving a tastefully maroon-hued Acura RLX Advance, which offers something called Adaptive Cruise Control (ACC) with Low Speed Follow. It sounds clunky, but it's actually quite useful.
You press a button on the steering wheel that looks like a car running over speed bumps. Magically, the RLX maintains your current speed. If some guy in a Ford pickup wearing overalls and eating cheese curds by the handful suddenly pulls in front of you, the RLX will give him the ultimate
"no problemo"
signature move: It adjusts your speed automatically and maintains a safe, cheese-curd-friendly distance, all the way down to a full stop if necessary.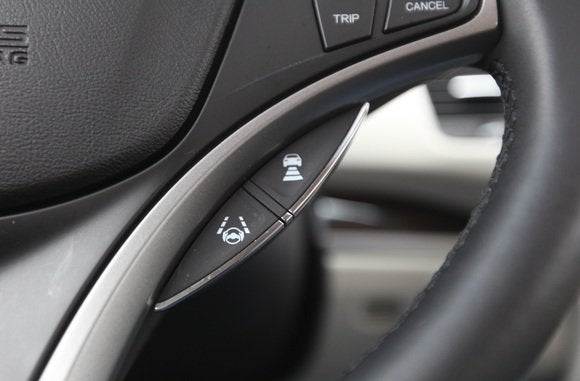 The button to activate adaptive cruise control is on the steering wheel.
​
I arrived a little after 5:00 p.m. in Fargo—right about the time the Wal-Mart day shift ends. I merged into traffic and punched the ACC button at around 60 mph. I'd already shown how the RLX can keep you centered in your lane for short spurts. With both ACC and lane-keeping activated, it's like driving a maroon robot on 4 wheels without using your hands or feet. Cool.
The ACC worked fine, for the most part. Traffic jams are a little unpredictable. Modern cars are not ready to understand the difference between a canoe that's sticking off the back of a Subaru and one that's rolling down the highway in front of you. If Billy Bob swerves into your lane, it's disconcerting to have the RLX brake suddenly on its own. You have to restrain your own instinct to brake. It reminds me a bit of Apple's Siri: It's amusing to dictate a text message to her, but it's much easier to do it yourself.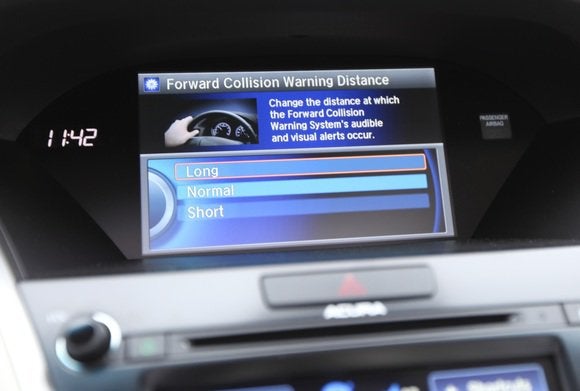 You set the warning distance for Adaptive Cruise Control from the center display.
​
I might have been less disconcerted if I'd felt better informed about what's happening—especially in the case of full stops. When you enable normal cruise control, you see an icon of a car in the instrument cluster. When adaptive cruise starts working, the car icon flashes white, and you'll see tiny red taillight icons. The RLX Advance also beeps at you once to indicate when ACC is working, and again when it's disabled.
For Low Speed Follow, I wanted more visual aids than that. Maybe a head-up display that shows lights coming closer and closer together. Maybe the beeps get louder. Or maybe I just need to get used to the feature.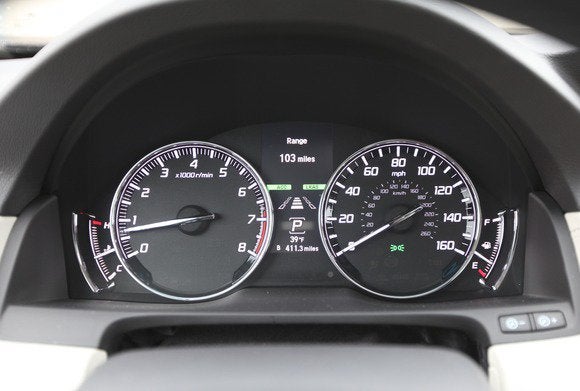 Most of the visual cues for adaptive cruise control show in the center of the instrument cluster, and there are also audio cues.
​
Eventually, the traffic loosened. I never hit the brakes on my own. All I did was press the ACC resume button when the RLX Advance came to a complete stop. In consistent traffic slowdowns, the feature is flawless. In other cases, you may have to take over. For the most part, you'll probably hover your foot over the brakes no matter what's happening.
Adaptive Cruise Control with Low Speed Follow is available only on the RLX Advance, which costs $60,450. That's exactly $12,000 more than the base Acura RLX. My entire family could go on a Caribbean cruise for $12,000. I could buy a used Nissan Versa and have money left over for an annual tanning club membership. And I'm not even into tanning!
Of course, with the RLX Advance, you gain much more than traffic jam assistance. There's a collision warning system, lane-keeping, a power rear sunshade, a full-time paid masseuse (not really, but the seats are extremely comfortable) and tons of extras. And, what's the real cost of accident avoidance, anyway? I never even came close to hitting Billy Bob's truck.
Several less expensive (and smaller) luxury cars offer low-speed adaptive cruise control such as the Mercedes-Benz CLA ($32,400 with the extra tech package) and the new 2015 Audi A3 ($38,350 at Prestige trim level that includes stop-and-go adaptive cruise). However, for similar full-sized sedans like the 2014 Audi A7 ($67,400), the Acura RLX's pricing is competitive.
For those of us who just need to drive to Wal-Mart, the Acura RLX Advance's Low Speed Follow is overkill. For peace of mind in a life filled with heavy commute traffic, however, it's certainly helpful. As a proof-of-concept for future autonomous driving, it's essential.